For me, it all started with being contacted by Catalyst VR and told this was going to be a tight deadline. The brief was fun, immersive and allowed me to play with the HTC Vive so naturally I accepted. Having years of XR development under my belt and working with a great team, I was fully confident that we could achieve something that was perfect for the client.
Project Development Tip #1
Don't be afraid to reach out, to find out what is achievable in the time frame you require. You may be surprised by the amount of work I can achieve within a tight deadline.
Catalyst laid out their vision with detailed visuals and concise client specs - which helped me greatly, to design the app and break down each element accordingly. One of the more interesting elements was puzzle solving a way to guarantee the cricket ball reached 60m with in 6 bat swings. This may seem like an easy task but the ball itself was subject to simulated physics and the bat would likely be controlled by a first time VR user. It was a tricky problem but after some testing a solution was found.
Project Development Tip #2
Initially software needs to be planned and designed. Any clear and concise information you can give can reduce design time and cost.
Like any good magician, I used a slight of hand. The ball bowled, once collided with the bat, would be destroyed and then a second ball would fire from the bat. The user, and viewers, would assume there was only one ball. From there, the ball itself was moving at a greater speed, lighter weight and less effected by simulated gravity. This had to be adjusted to just the right balance; so that it was extreme enough to reach the distance but not so much that it was too farfetched. That in itself took some adjustments but the final result was fantastic.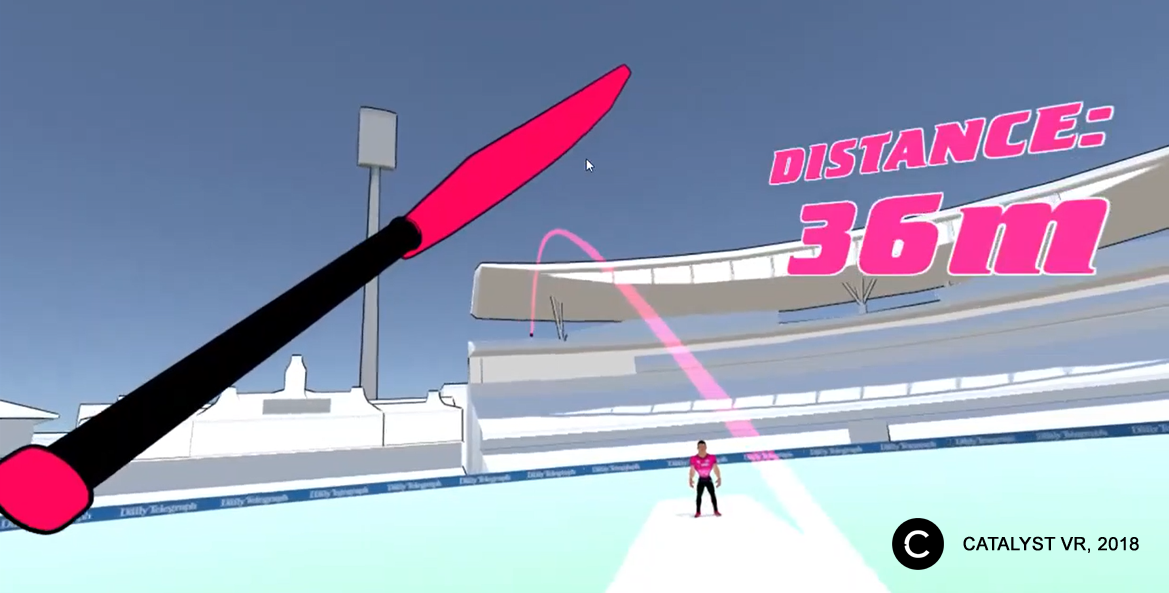 The team at Catalyst VR rolled out the event in March 2018. It included a $2000 prize for the member of the audience that hit a 6 within six bowls. Not only that but which ever crowd member was seen, trying to catch the ball in the same relative position to where the ball lands in the VR experience, would also win $2000. This was definitely a unique and innovative approach to combine the virtual experience with the real world, which paid off literally as two lucky people won that day, resulting in twice the excitement. As you can see from the video below.